Short description
Xenitia.16 combines music, testimonies and images into a documentary on stage that honors the feelings of missing, nostalgia and the search for home that all migrants share. These have been expressed in countless Greek melodies. A team of musicians, a filmmaker and a journalist give them their up-to-date meaning, guided by the stories of Greeks who recently had to leave their country.
Team
Percussion: Evi Filippou; harp: Andrea Voets; Singer and songwriter: Katerina Fotinaki Film and dramaturgy: Fabio Dondero and Chiara Somajni
Dates
Amsterdam, Compagnietheater, 30. April 2016, premiere: LINK
Ostende, De Grote Post, 4. December 2016, LINK
Bremerhaven, Stadttheater, 11. June 2017, LINK
Thessaloniki, Megaron, 21. October 2017, LINK
Mechelen,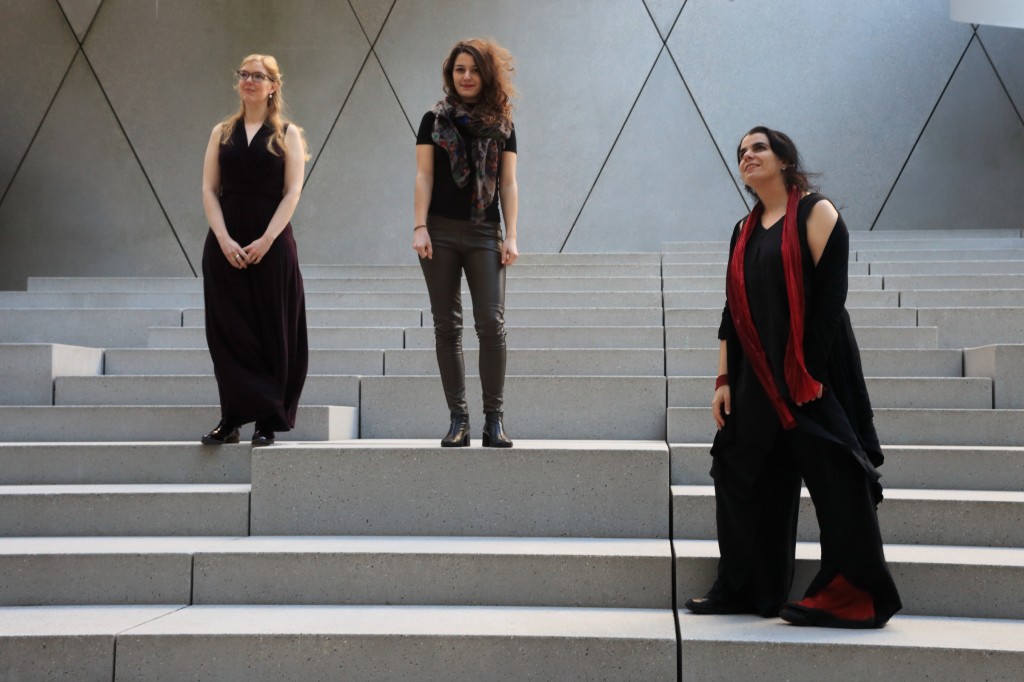 The project in context
Xenitia < xeniteuomai: to distance yourself from the homeland, in an attempt to build up an existence elsewhere. Etymology: being at the service of a foreign army, as opposed to being a citizen Xenitia.16 follows the footsteps of the latest wave of Greek migrants throughout Europe. Right now, Greece is experiencing the third exodus in a hundred years' time, caused by a financial crisis which has had worse effects on the country than the Great Depression on the United States in the '30. Since 2008, 1 out of 50 Greeks has left the country. Europe is experiencing an unprecedented flux of migration since World War II, making the old notion of xenitia more actual than ever. It is a cocktail of homesickness, nostalgia and frustration: feelings that have been expressed in countless melodies. In the traditional, often melancholic songs of xenitia, the listener finds an outlet for these emotions. Eighteen Greek migrants, who had to leave because of the crisis, were interviewed about their views on belonging, the sense of home and their personal path. Their voices, arranged by filmmaker Fabio Dondero and journalist Chiara Somajni, are carried out in this documentary-concert, together with a contemporary interpretation of the traditional songs of xenitia. The music is shaped by the poetic mastery of singer-composer Katerina Fotinaki, the rhythmical intensity of percussionist Evi Filippou and the contemplative coloring by harpist Andrea Voets. An innovative approach, in which music and interviews merge into a compelling unity, that honours the challenges every migrant faces.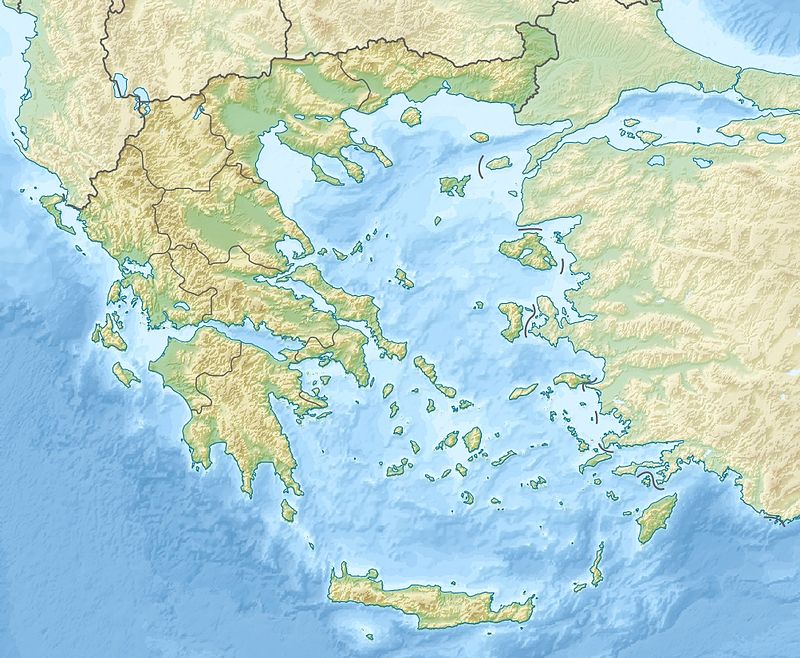 After a strict selection process, Xenitia.16 got financed by the Dutch Ministry of Culture, as part of the Europe by People festival on the occasion of the Dutch presidency of the EU in 2016. After the premiere at the Compagnietheater in Amsterdam (April 2016), the program is going on a European tour, starting with a performance at de Grote Post, Oostende, Belgium.
The Music of Xenitia
Xenitemenomou pouli – traditional (arrangement Katerina Fotinaki)
Soleil de la justice – music: Mikis Theodorakis, poetry: Odysseus Elytis (arrangement Katerina Fotinaki)
Dance from Volos – traditional melody (arrangement Evi Filippou) Zorbas – Mikis Théodorakis ( lm music from Zorba the greek)
Never on Sunday – Manos Hadjidakis ( lm music from Never on Sunday) Amanes – traditional (arrangement Katerina Fotinaki)
Hammers – Nils Frahm (arrangement Andrea Voets)
Europe – music: Katerina Fotinaki, Poetry of Kostis Palamas Rebonds – Iannis Xenakis
Yanni mou to mantili sou – traditional (vocal arrangement Katerina Fotinaki) Mia thalassa mikri – Dionyssis Savopoulos
Labyrinth dance (Theseus and Ariadne) – from The Crown of Ariadne
by R. Murray-Schafer
Ta Tzitzikia – music: Katerina Fotinaki, poetry: Odysseus Elytis
Duration: 90 minutes
Further trailers
[nggallery id=45]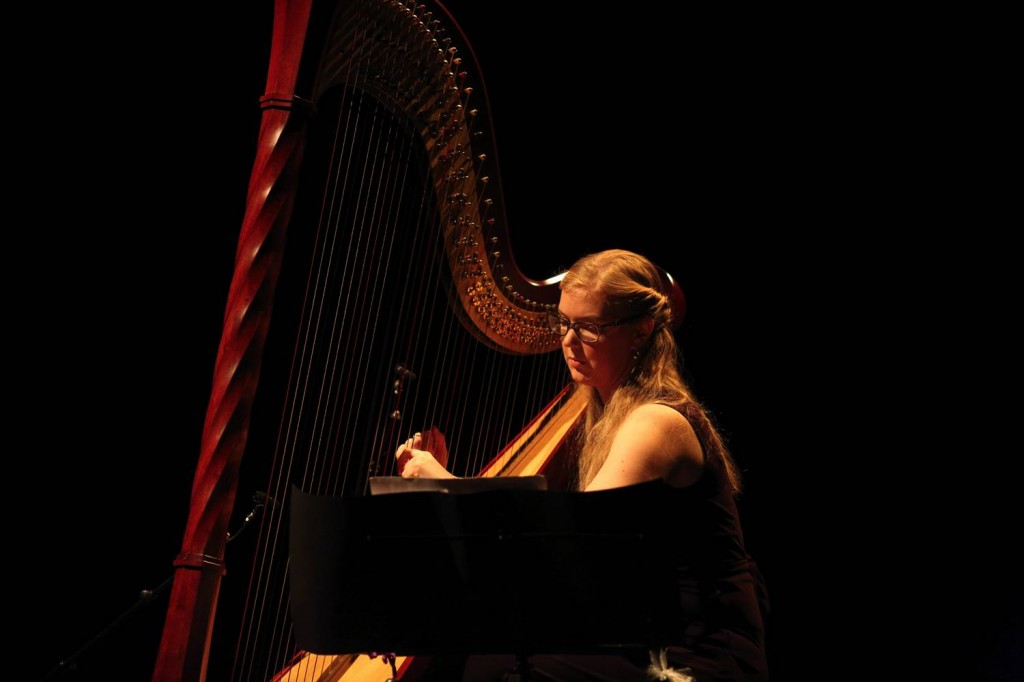 Andrea Voets (BE/NL, 1989), as a performer, stands for non-conformity and authenticity. In 2014 she finished her master studies at the Hochschule für Musik Hanns Eisler in Berlin. Before that, she obtained her BA of philosophy and harp in Amsterdam. Since her early study days, Andrea combines her many interests into unique interdisciplinary concert formats, like Latin Lovers (with calligraphy, on the Ars Amatoria by Ovid), Born to be Wilde (with word art, on the turbulent life of Oscar Wilde) and Noot breekt Wet (on the philosophy of Hannah Arendt). Her studies and productions have been funded by a.o. the Prince Bernhard Cultuurfonds, the Amsterdams Fonds voor de Kunst, SmartBE and music fund Stringendo. Since 2014 she teaches her own course of Practical music philosophy at the Berlin Hanns Eisler conservatory. In 2015 she made her successful debut at the Concertgebouw of Bruges. In 2016 she holds an Elsa Neumann Stipendium from Berlin and got selected for the Concerto21 program of the Töpfer Stiftung and the rst Citizen Artist Incubator.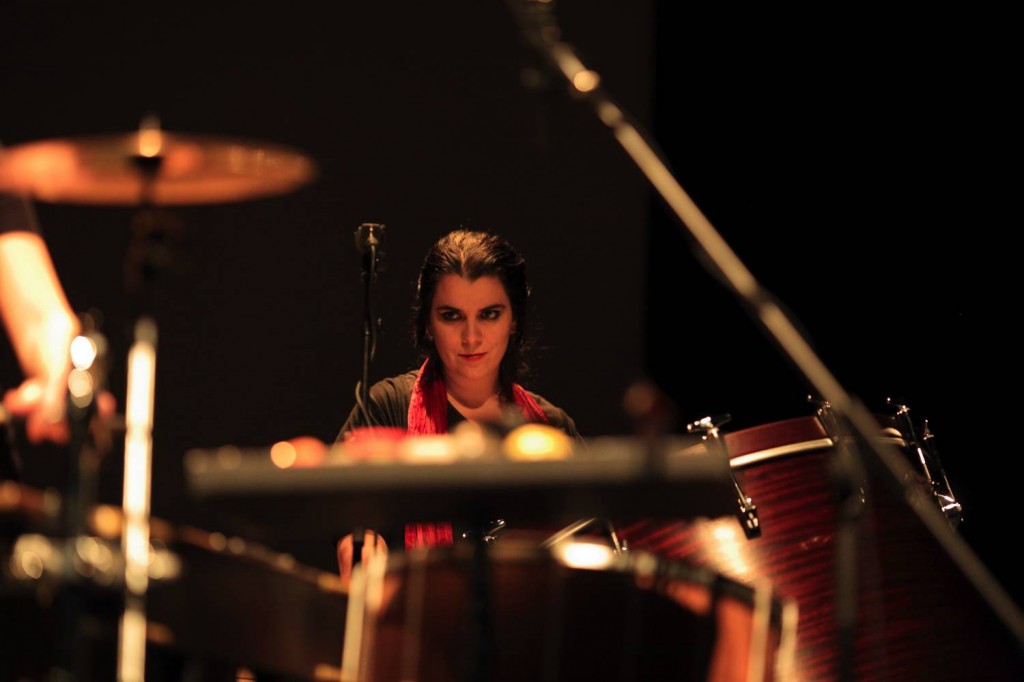 Katerina Fotinaki (GR, 1979) studied classical literature at the University of Athens and vocal technique at the Institute of Vocal Arts, with baryton Spyros Sakkas. She is the artistic director of many projects in Greece and received many prizes in composition contests. She moved to Paris in 2006, invited by the composer Angelique Ionatos and creates 3 different shows with her as well as a CD/DVD of their duet. She was a resident of "Cité des Arts" for many years. In 2011 she wins the 1st prize for the National Songwriting Contest in Athens, and be- gins her solo discographic career with the disc Tzitzikia (Accords Croisés/Harmonia Mundi) that was received with great enthusiasm by the French press (a fff-valuation of Télérama Music Magazine, 4th best disc of the year 2014 according to Le Monde). In addition to Greek music and poetry, Katerina Fotinaki studied contemporary music with composer Bernard Cavanna at the Gennevilliers Conservatory. Since 2014 she is teaching at the National Theater of Northern Greece.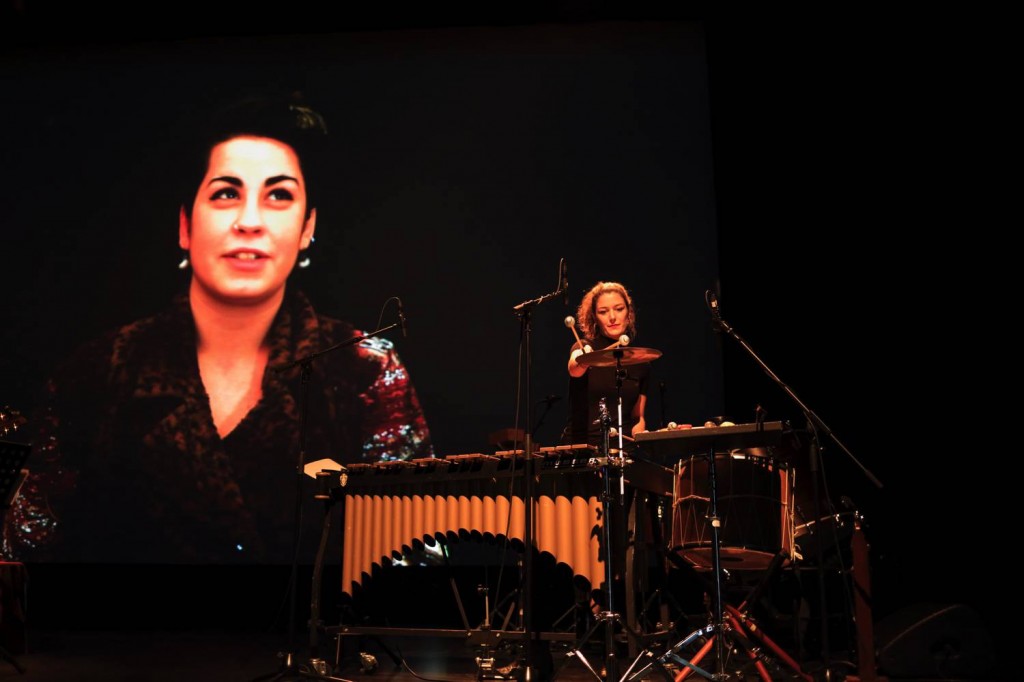 Evi Filippou (GR, 1993) started taking percussion lessons at the age of 7. In 2009 she gave her first recitals in Athens with a scholarship from the Friends of Music. Two years later, she graduated with a first prize and moved to Berlin to start her Bachelor studies at the Hochschule für Musik Hanns Eisler. She performed a.o. with the Bolshoi Ballet Orchestra, Cyprus Symphony Orchestra and the Orchestra of Konzerthaus Berlin. Evi is a founding member of the Opera Lab Berlin, an independent ensemble that specializes in music theater, with which she premiered a piece by Salvatore Sciarrino in the Staatsoper Berlin. In 2015 she played a solo concert in the series Welcome young Artists! in Athens. Together with saxophonist Hayden Chisholm she founded a duo, playing contemporary as well as original compositions. They perform around the world and they just released their Duo Album Blowslap. Evi also plays in many pop, jazz and theater projects.
Fabio Dondero (IT/DE, 1968) moved from Italy to Germany at the age of 18. In 1997 Fabio Dondero entered the music business, working as a producer of classical con- certs around Europe and Russia. From 2005 till 2010 he was the director of the Galleria Davide Gallo located in Berlin, organizing multiple art shows and participations to art fairs all around the world with highly acclaimed international artists. Fabio started making documentaries in 2006 with the direction and editing of Lychenerstrasse 64, a long term project about a house in Prenzlauer Berg experiencing the effects of gentrification, co-produced by Rundfunk Berlin Brandenburg. The documentary was shown at Achtung Berlin Festival and broadcasted a couple of dozen times on Ger- man television channels. Sieben Meister, a rendition of extended studies in Berlin's spiritual communities between 2010 and 2015, is his second movie.
Chiara Somajni (IT, 1967) is a journalist. She has worked for over 20 years for the leading Italian financial newspaper Il Sole 24 Ore, especially for the weekly cultural supplement Domenica. In 2012 she resigned, moved to Berlin and started working as an independent journalist, contributing to Italian and German outlets, as well as developing her own cultural projects. Chiara is interested in the most diverse forms of contemporary culture and their interdisciplinary connections. Parallel to her main work she has taught Arts and technology at Bocconi University, edited two books by Matteo Motterlini on neuro-economics, co-curated an exhibition on "The language of catastrophe" dedicated to the misuse of fear in propaganda. Since 2004 she is involved in Actionaid, an ngo fighting poverty and injustice, for which she now serves as the vice-chair of the international board.