A multisensorial concert- Thursday, 26th September 2019, 8 p.m.
Arne Braun, guitar & Sofia Eftychidou, bass . Simon Bräumer, drums . Pascal Klewer, trumpet – Fabio Dondero and Dominik Breider (Incense burning): Orange and Styrax

PANDA Theater in der Kulturbrauerei, Knaackstr. 97, 10435 Berlin
We are proud to present Incense of Music Nr. 38 with a double concert of highly talented young artists from Finland, Germany and Greece. In the first set we will listen to Arne Braun and his eclectic electric guitar, trance guaranteed, the second will be performed by the Bräumer/Klewer/Eftychidou Trio, which combines grooves and free improvisations. A jazzy evening with the taste of Orange and Styrax, warm and elegant.
First set: Orange
Arne Braun, guitar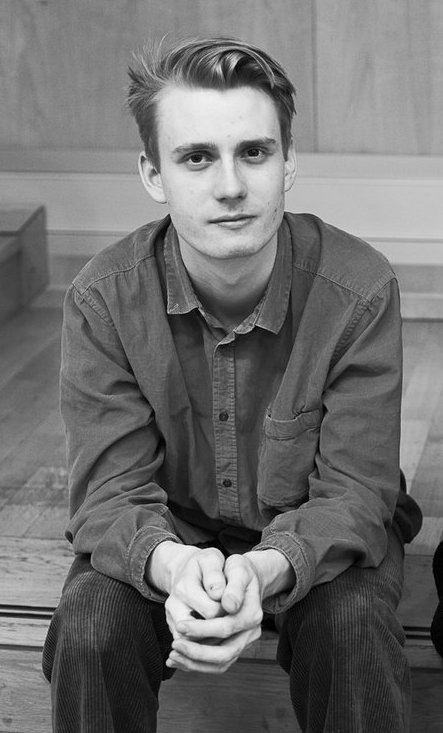 Arne Braun, born 1995 in Jakobstad, Finland, is a Finnish musician with the electric guitar as his main instrument. He lives in Berlin where he is active on the scene in various bands and projects, playing both in Berlin and other cities around Germany. Besides Germany and Finland, where he is regularly performing, he has also played in Iceland, France, Sweden, Italy and The Netherlands. Some notable festivals he has performed at include the Reykjavik Jazz Festival, Umbria Jazz Festival and Pori Jazz Festival, Maerz Musik. He recently graduated from the Jazz Institute Berlin (UdK/Hanns Eisler) where he during his studies recieved lessons from Greg Cohen, Kurt Rosenwinkel, Kalle Kalima, Chris Dahlgren, Jim Black, John Hollenbeck, Marc Muellbauer, and more. In the last five years he has had the opportunity to play and perform with some of his favourite musicians including Morgan Ågren, Jim Black, Pat Mastelotto, Greg Cohen, and many more.
Second set: Styrax
Sofia Eftychidou, bass . Simon Bräumer, drums . Pascal Klewer, trumpet
The Music of the trio Bräumer/Klewer/Eftychidou is full of surprises. Tense grooves paired with radical spontaneity and the desire to enter unknown territories is what makes this trio so exciting. The cohesion of the three musicians is based on trust and the creative process to create something new, yet beautiful.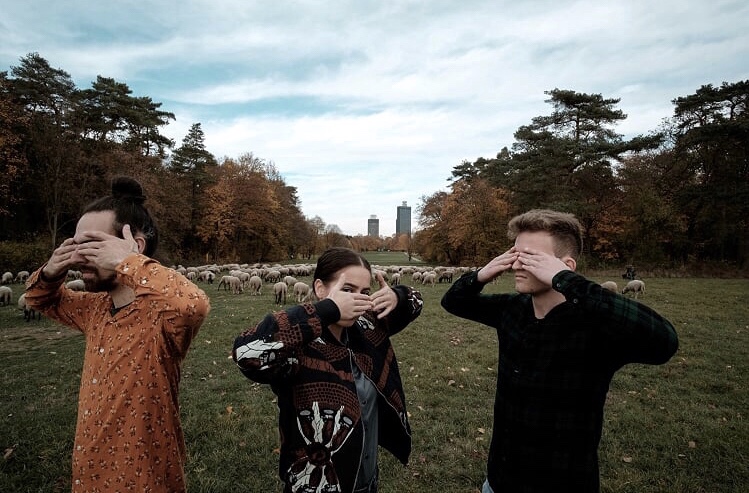 Sofia Eftychidou (21.09.1994) is a greek bass player living in Cologne, Germany. She was born in Volos, (Greece) where she took her first musical steps starting out with the piano at age 10. Later on at age 14, she picked up the electric bass and a few years later she started playing the double bass. She first studied classical music under the guidance of Vassilis Papavassiliou in Athens and soon started playing in orchestras and ensembles. When she turned 18 she moved to Berlin, where she decided she wanted to play jazz and started taking lessons with bassist Marc Muellbauer. After three years, she moved to Cologne to study at the "Hochschule für Musik und Tanz Köln" under the guidance of Dieter Manderscheid and Jonas Burgwinkel. In addition to her trio "Bräumer/ Klewer/ Eftychidou", she plays in different projects which has led her to play in numerous european venues.
Simon Bräumer was born in 1997. He was raised in a musical family in the Odenwald in Germany. When he was 6 years old he started playing the drums. Jazz played an important role for him from early on. He played his first Jazz gigs at 12, shortly after which he began to participate in projects of the Hessen State Youth Jazz Orchestra, which led him to play tours in Latvia, Lithuania, Canada and China as well as being on stage with Grammy Award winning singer Dee Dee Bridgewater. Simon Bräumer studies Jazz at the "Hochschule für Musik und Tanz" in Cologne with Michael Küttner and Jonas Burgwinkel and at the "Guildhall School of Music and Drama" in London with James Maddren and Tom Farmer. He is a sideman in different Jazz combos and the drummer of Pascal Klewer´s Big Band.
Pascal Klewer, born 1997 in Groß-Gerau, Germany, started picking up the trumpet at the age of 8. After a focus on classical music he started concentrating on Jazz at the age of 13. Since 2014 he is a member in the Youth Jazz Orchestra of the State Hessen and since 2018 he is a member of the German National Youth Jazz Orchestra. He has played in numerous ensembles like the Klassische Philharmonie Bonn, several Youth Jazz Orchestra´s, the Cologne Contemporary Jazz Orchestra, the Subway Jazz Orchestra, the Shaikh9 as well as several other bands. He has toured all over Europe, China, Canada and Bolovia and in renommated venues such as the Elbphilharmonie Hamburg, Philharmonie Köln, Konzerthaus Köln, as well as playing with Grammy Award winning musicians such as Dee Dee Bridgewater, Dianne Schuur and Randy Brecker. In 2015 he moved to Cologne to study at the Hochschule für Musik und Tanz with Andy Haderer, Jürgen Friedrich and Niels Klein. As a leader his main projects are the german-greek trio Bräumer/Klewer/Eftychidou (Co-Leader), as well as his own Bigband, the Pascal Klewer Bigband. With his own Bigband he curates a concert series in Cologne, where he combines renommated artists such as Peter Brötzmann or Kit Downes with his own bigband and his own compositions.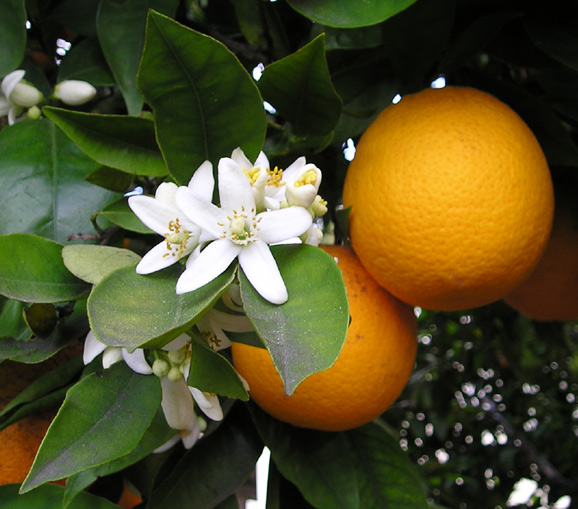 Orange flowering
The orange is the fruit of the citrus species Citrus sinensis in the family Rutaceae, native to China. The orange is a hybrid between pomelo (Citrus maxima) and mandarin (Citrus reticulata). The orange originated in Ancient China and the earliest mention of the sweet orange was in Chinese literature in 314 BC. In 2017, 73 million tonnes of oranges were grown worldwide, with Brazil producing 24% of the world total, followed by China and India. The word orange derives from the Sanskrit word for "orange tree" (नारङ्ग nāraṅga), which in turn derives from a Dravidian root word (from நரந்தம் narandam which refers to Bitter orange in Tamil). The Sanskrit word reached European languages through Persian نارنگ (nārang) and its Arabic derivative نارنج (nāranj).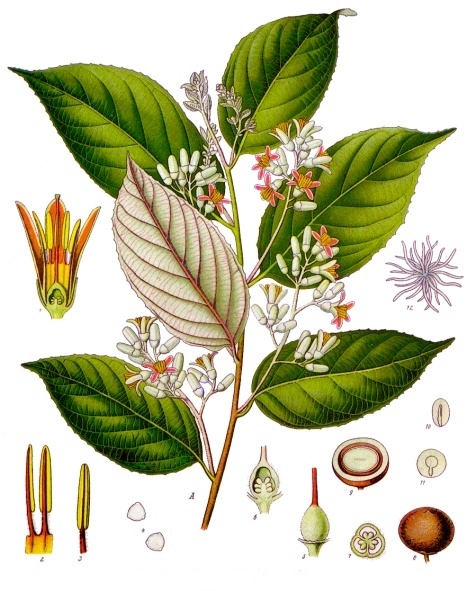 Gum benjamin (Styrax benzoin) parts drawing. Franz Eugen Köhler: Köhler's Medizinal-Pflanzen in naturgetreuen Abbildungen, etc. (1887)
Styrax (common names storax or snowbell) is a genus of about 130 species of large shrubs or small trees in the family Styracaceae, mostly native to warm temperate to tropical regions of the Northern Hemisphere, with the majority in eastern and southeastern Asia, but also crossing the equator in South America. Since Antiquity, storax resin has been used in perfumes, certain types of incense, and medicines. Styrax resin was imported in quantity from the Near East by Phoenician merchants, and Herodotus of Halicarnassus in the 5th century BC indicates that different kinds of storax were traded.